Dr. Satish Patel

- Best Orthopedic Doctor in Ahmedabad, Gujarat

Joint Replacement Hospital in Gujarat, Joint Replacement Surgeon in Ahmedabad, Joint Replacement Surgeon in Gujarat, Joint Replacement Doctor in Ahmedabad, Joint Replacement Doctor in Gujarat, Joint Replacement Doctor in Rajasthan, Orthopedic Surgeon in Ahmedabad, Orthopedic Surgeon in Gujarat, Orthopedic Surgeon in Rajasthan, Orthopedic Surgeon in Paldi, Orthopedic Surgeon in Vasna, Orthopedic Surgeon in Satellite, Best Orthopedic Surgeon in Ahmedabad, Best Orthopedic Surgeon in Gujarat, Best Orthopedic Surgeon in Satellite, Orthopedic Hospital in Rajasthan, Orthopedic Hospital in Ellis bridge, Orthopedic Hospital in Paldi, Orthopedic Hospital in Ambawadi, Orthopedic Hospital in Vasna, Orthopedic Hospital in Satellite, Best orthopedic Hospital in Ahmedabad, Best orthopedic Hospital in Gujarat, Best orthopedic Hospital in Rajasthan, Best orthopedic Hospital in Paldi, Best orthopedic Hospital in Satellite, Orthopedic Doctor in Ahmedabad, Orthopedic Doctor in Gujarat, Orthopedic doctor near me, orthopedic clinic in Ahmedabad, Best orthopedic doctor in Ahmedabad, Best orthopedic doctor in Gujarat

Sarthak Orthopedic Hospital was started in Feb. 2001 as a dedicated centre for Orthopedic and Arthroscopic Surgeries. The hospital has received the Best Nursing Home award from Ahmedabad Medical Association. His team comprises other highly experienced orthopedic surgeons who are able of taking all other aspects of Orthopedics. The Department of Orthopedics and Joint Replacement at the Sarthak Orthopedic Hospital has a range of advanced treatments, which provide aims at providing the best services and treatment possible. The Sarthak Orthopedic Hospital has a team of expert orthopedic surgeon in Ahmedabad, Gujarat, Rajasthan. Orthopedic Doctor near me.

Dr. Satish Patel specializes in difficult primary and revision Joint Replacement Surgeries. He has had specific training for these over the years. He is a visiting specialist surgeon at various centers in Gujarat and Rajasthan. The workload at the hospital has steadily increased since its inception and is an acknowledged centre of excellence. The operation theatre has a Class 100 Laminar Airflow System. The latest equipments are available for orthopedic and Shoulder Arthroscopies...

Read More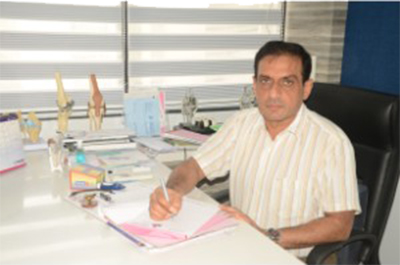 Sarthak Orthopedic Hospital Ahmedabad, Gujarat
Sarthak Orthopedic Hospital is an orthopedic multispecialty unit offering a wide variety of cutting edge & world-class healthcare facilities at an affordable cost to the patients. Supported by a team of specialists doctors and friendly staff, Sarthak Orthopedic Hospital puts the welfare of the patient community at the forefront. Sarthak Orthopedic Hospital has treated thousands of patients to get relieved of their pain to resume an active and healthy life. The world-class joint replacement center at Sarthak Orthopedic is a sterling example of the latest advancements in the healthcare industry helping patients suffering from joint-related diseases, frequently aged people to get back their activity and enjoy a more effective secondary innings of life. Sarthak Orthopedic Hospital is one of the best orthopedic hospital in Ahmedabad, Gujarat, Rajasthan. We provide the best treatments. Orthopedic Hospital in Ellis Bridge, Paldi, Ambawadi, Vasna, Satellite, Ahmedabad, Gujarat, Rajasthan, Best orthopedic Hospital in Ahmedabad.

This information portal is designed to help you understand the many facilities available at Sarthak Orthopedic Hospital. It will answer all questions related to the vast domain of bone, joint and muscle problems, injury, damage or problems arising from the joints and other tissues of the upper / lower limbs or other tissues of the back.Sarthak Orthopedic Hospital is committed to providing the best care in the field of joint replacement surgery. Our USP is to provide personalized care in a very friendly environment utilizing only the top-notch implants with a proven track record. The packages & facilities suites all class of patients. Dr. Satish Patel is one of the best orthopedic doctors in Ahmedabad, Orthopaedic Doctor in Gujarat. We provide a hip replacement, Joint replacement, Knee replacement, knee joint replacement, Total knee replacement in Ahmedabad, Ellis Bridge, Paldi, Ambawadi, Vasna, Satellite, Rajasthan. Dr. Saurabh Goyal is a specialist of knee joint replacement surgeon in Ahmedabad, Knee surgeon, Orthopedic surgeon, Orthopaedic doctor, best doctor for knee replacement.

With comprehensive joint care, Sarthak Orthopedic Hospital Ahmedabad helps restore your mobility. We aim for our patients to get well soon and stay healthy. Sarthak Orthopedic Hospital, Best Orthopedic Hospital in Gujarat, Joint Replacement Hospital in Ahmedabad, Best Knee Replacement in Ahmedabad, Orthopedic Surgeon in Ahmedabad, Top Orthopedic doctor in Ahmedabad, Gujarat, Orthopedic Doctor in Ahmedabad, Gujarat. We provide knee and joint replacement surgery along with other orthopedic treatments. Sarthak Orthopedic Hospital offers the best orthopedic doctors in Ahmedabad and the top orthopedic surgeons in Gujarat and Rajasthan. We have the best joint replacement surgeons in Ahmedabad, Gujarat.
Dr. Satish Patel have
20 years

of experience
Sarthak Orthopedic Hospital has received the Best Nursing Home award from Ahmedabad Medical Association. The Operation Theatre has a Class 100 Laminar Airflow System.
Orthopedic Surgeon in Ahmedabad, Orthopedic Surgeon in Gujarat, Orthopedic Surgeon in Rajasthan, Orthopedic Surgeon in Ellis bridge, Orthopedic Surgeon in Paldi, Orthopedic Surgeon in Ambawadi, Orthopedic Surgeon in Vasna, Orthopedic Surgeon in Satellite, Best Orthopedic Surgeon in Ahmedabad, Best Orthopedic Surgeon in Gujarat, Best Orthopedic Surgeon in Rajasthan, Best Orthopedic Surgeon in Ellis bridge, Best Orthopedic Surgeon in Paldi, Best Orthopedic Surgeon in Ambawadi, Best Orthopedic Surgeon in Vasna, Best Orthopedic Surgeon in Satellite, Orthopedic Hospital in Ahmedabad, Orthopedic Hospital in Gujarat, Orthopedic Hospital in Rajasthan, Orthopedic Hospital in Ellis bridge, Orthopedic Hospital in Paldi, Orthopedic Hospital in Ambawadi, Orthopedic Hospital in Vasna, Orthopedic Hospital in Satellite, Best orthopedic Hospital in Ahmedabad, Best orthopedic Hospital in Gujarat, Best orthopedic Hospital in Rajasthan, Best orthopedic Hospital in Ellis bridge, Best orthopedic Hospital in Paldi, Best orthopedic Hospital in Ambawadi, Best orthopedic Hospital in Vasna, Best orthopedic Hospital in Satellite, top orthopedic doctors in Ahmedabad, top orthopedic doctors in Gujarat, top orthopedic doctors in Rajasthan, top orthopedic doctors in Paldi, Best Knee Replacement in Ahmedabad, Best Knee Replacement in Gujarat, Best Knee Replacement in Rajasthan, Best Knee Replacement in Ellis bridge, Best Knee Replacement in Paldi, Best Knee Replacement in Ambawadi, Best Knee Replacement in Vasna, Best Knee Replacement in Satellite, Knee Joint Replacement in Ahmedabad, Knee Joint Replacement in Rajasthan